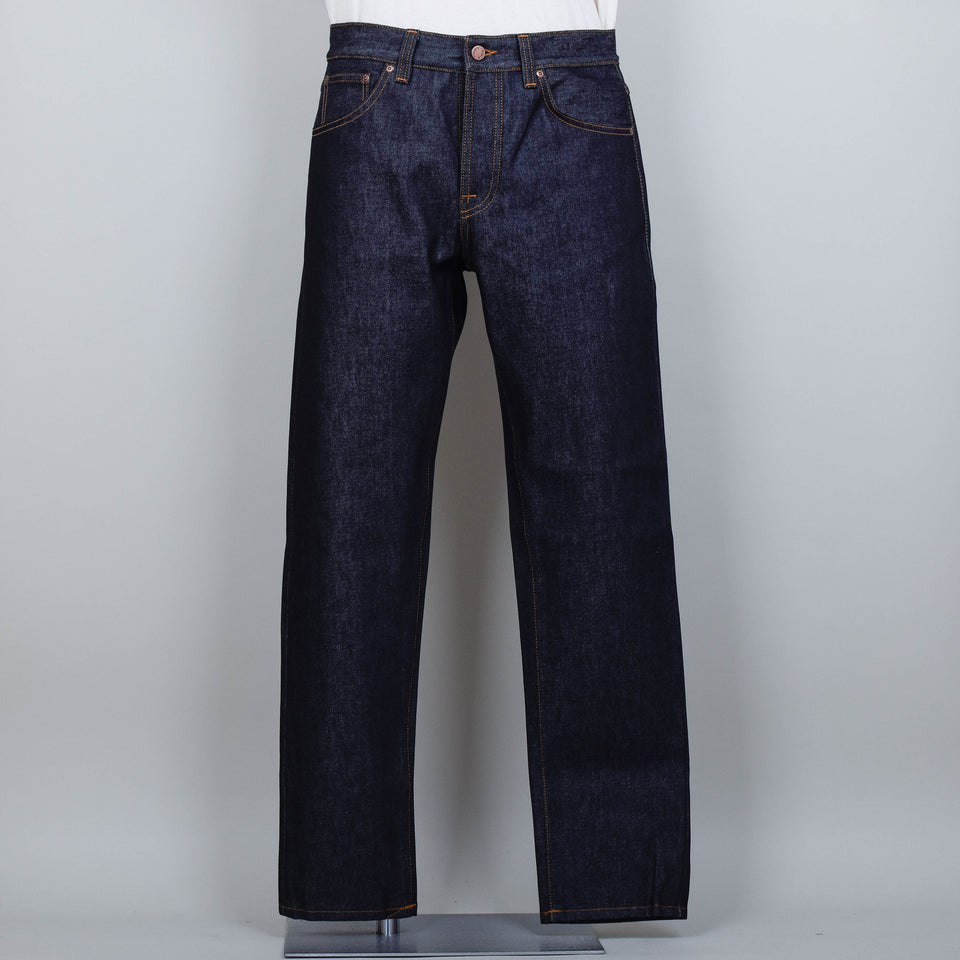 Nudie Jeans Steady Eddie II - Dry Heavy
005032046003
by Nudie Jeans
$187.20
Non UK VAT Price (EU / International Customers): $156.00
SIZE GUIDE 
| | | | | |
| --- | --- | --- | --- | --- |
| | WAIST | RISE | THIGH | ANKLE |
| 30 | 15.5" (39.5cm) | 11" (28cm) | 10.5" (26.5cm) | 6.5" (16.5cm) |
| 31 | 16.5" (42cm) | 11" (28cm) | 11.5" (29cm) | 7" (18cm) |
| 32 | 17" (43cm) | 11" (28cm) | 11.5" (29cm) | 7.5" (19cm) |
| 33 | 17.5" (44cm) | 11" (28cm) | 11.5" (29cm) | 7.5" (19cm) |
| 34 | 18" (45.5cm) | 11.5" (29cm) | 12" (30.5cm) | 7.5" (19cm) |
| 36 | 18.5" (47cm) | 11.5" (29cm) | 12.5" (31.5cm) | 8" (20cm) |
PRODUCT CODE

114492

SIZING + FIT

Regular fit. Regular taper. Mid waist. 

MANUFACTURE

Made in Italy

FABRIC

100% Organic cotton

FEATURES

14.9 oz. denim - heavy weight

Dyed with indigo and non-edible agricultural industrial waste
Tobacco thread at seams
Tobacco back pocket stitch work 
Copper trims
Button fly
Jacron patch

THE DENIM

This one is a best-of-the-90's washed option with great texture. It's a heavy, 15 oz., Turkish denim with great potential. After some wear and wash, the yarns will interact, and you'll reap the rewards that ring spun and open-end yarns create — that typical 90s marbling effect. It's the combination of yarn spinning methods that render the marble texture. The built-intension formed by the yarns gives the denim a puckering texture that becomes more pronounced with wearing and washing. Much like the best Japanese denim, this Turkish denim, developed by Orta, is dyed in pure indigo to an almost black indigo tone. Like all pure indigo dyed denim, this one ages to a clean, blue redcast tone. The initial deep tone will allow for some nice highs and lows as your pair makes their way to vintage denim status.